About Tongren Polytechnic College
Tongren Polytechnic College (TRPTC) is a public and full-time higher vocational college approved by the People's Government of Guizhou Province in June 2002. It amalgamated the former Agricultural School, which was a key secondary technical school at the national level, Medical School, Financial School, Commercial School, and Advanced Vocational and Technical School in TongrenPrefecture. Its history can be traced back to 1938. Through 75 years' development, the school has graduated tens of thousands of professionals in all fields contributing to the economic development in Tongren and Guizhou province.
Tongren Polytechnic College covers an area of 116 hectares, currently embracing 9teaching departments (Department of Bioengineering, Department of Pharmacy, Department of Medicine, Department of Nursing, Department of Economic Management, Department of Engineering Technology, Department of Computer Science and Application, and Department of Humanities and Social Sciences), 2 subordinate schools, one Department of Continuing Education, and one Affiliated Hospital. There are 43 specialties for higher vocational education. The college recruits students from 25 provinces, municipalities, and autonomous regions of the country. At present, the college has a full-time enrollment of over 21100 students, and a teaching faculty and staff of 756. The teachers number including 217 professors and associate professors as well as a group of outstanding lecturers. There are altogether 242 teachers and professors with master degree or doctor degree, and 341 own double qualifications.
The college has 8 experiment and training centers including biotechnology and pharmacy technology, and 16 productive training bases such as an Eco-agricultural Demonstrative Zone, a Medical Technology Training Center, and a Nursery Garden. It has established many internship bases by cooperating with 361 enterprises and villages, and thus a multifunctional practical training base that integrates "teaching, studying, practicing, researching, popularizing, training, and producing" has formed. The college has also set up a Biopharmaceutical Training Base financed by the central government, a Skilled Talent Cultivation and Training Base in Electronic and Information Industry, an Administrative Labor Transfer Training Base authorized by the Poverty Relief Office of the State Council, a Training Base for Biopharmacy Teachers in Vocational Education in Guizhou province, the Guizhou 35th National Vocational Technique Appraisal Station, and the No.47103293Agriculture Vocational Technique Appraisal Institute, etc.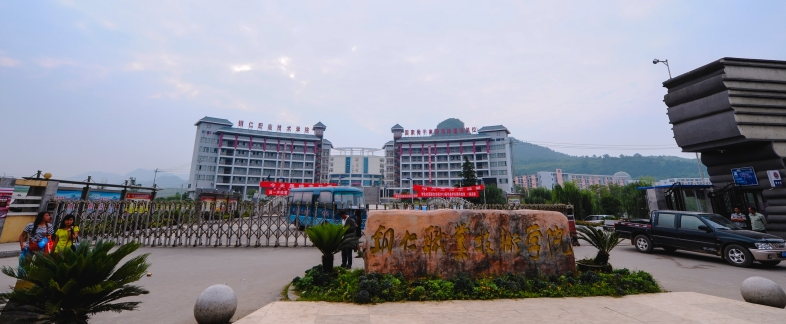 Altogether 18 regional research institutes have been established, including the Ethnic Veterinary Drugs Research Institute, the Tea Research Institute, the Tourism Research Institute, the Ethnic Medicine Research Institute, the Ethnic Culture Research Institute, the Higher Vocational Education Research Institute, the Industrial Development Research Center, the Research Center for Social and Economic Development of Wuling Mountain, and the Tongren Experiment Station of State Tea Industry Technology System. In recent years, 169 research projects have been established, among which 58 have gained provincial and prefectural-level awards including Science and Technology Advancement Awards, Humanity and Social Studies Awards, and Teaching Achievement Awards. Six have been awarded the National Invention Patent. There are all together 2050 theses published, and 513 of them are published in Chinese core periodicals; 55 treatises are published, and over 100 teaching materials are edited.
Following the school-running concept of "Cultivating Persons with Morals, Starting Careers with Techniques, and Serving the New Rural Area", and adhering to the specialty construction concept of "Interacting with Local Economic Development, and Accommodating Education with the Demand of Professional Positions", the school constructs a "Five-in-One" moral education model by extensively investigating its relationship with regional economic development. Thus a school-running model of "school-area working together, department-village cooperating together, and multi-integration" has formed. The college incessantly deepens its teaching reform, and builds up a professional cultivation model with distinctive characteristics. The quality of talent cultivation has been improving. In the past three years, the average employment rate of the graduates is over 95%, and the rate of graduates returning home to find a job is over 80%.
The college has been deemed an Excellent Unit in the Evaluation of Educational Level in Higher Vocational Colleges by the Ministry of National Education, an Excellent Unit in the Assessment of College Students' Ideological and Political Education Work in Guizhou province, and a Provincial Demonstration Unit of Higher Vocational College Construction. It is one of the initial 40 National Key Vocational Colleges Construction Units and among the top 50 National College Graduates Employment Work Units in 2010. The college has been cited as a National Graduates Employment Typical College in 2010-2011, and is an Executive Deputy Director Unit of Government and School-enterprise Cooperation Council on Tongren Vocational Education. Tongren Secondary Vocational School affiliated to the college is a National Demonstration School of Secondary Vocational Education Reform and Development. The college has a teaching team of Plant Medicine Production Technology at the national level, and two at the provincial level including the teaching team of Cultural Education of College Students and Plant Production Technology. The course of Ornamental Plant Recognition Technologyoffered at Tongren Polytechnic is classified as a national elite level course; eight are the best courses at the provincial level. There is also a team with scientific innovative talents in veterinary drug research.